339000,-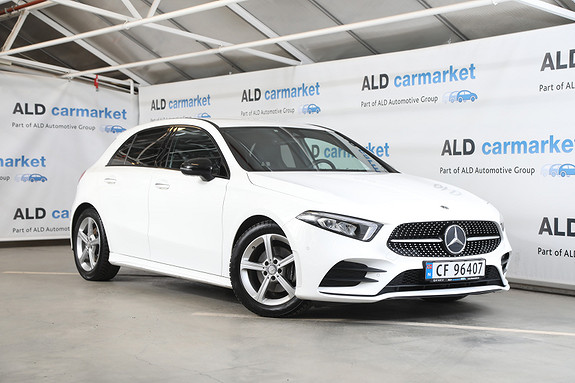 Mercedes Benz A200 163HK AMG utgave med automatgir. 
Solgt ny i Norge og selges med resterende nybilgaranti: 5 år/100.000 km fra førstegangsregistrering.
Servicer utført hos Mercedes ved 23´km. 
AMG Styling pakke
AMG Sportpakke
Nattpakke
Navigasjonssystem
LED High performance
Sportseter med delskinn
Adaptiv cruisecontrol
Ryggekamera
Parksensor foran/bak
El. innfellbare speil 
Speilpakke (automatisk dimming av utv- og innvendig speil)
Bluetooth med streaming
Keyless go
Skiluke
18" AMG felger (sommerhjul) 
FINANSIERING
Vi ordner finansiering mens du venter. Vi samarbeider med Nordea Finans og tilbyr finansiering inntil 100%. Lånedokumenter kan signeres hos oss ved henting av bil eller e-signeres.
FORSIKRING
Vi samarbeider med Gjensidige.
Vi tilbyr en av markedets beste forsikringer til ekstra god pris for deg som kjøper bil.
REGISTRERING
Vi er godkjent Autoreg forhandler og ordner derfor registrering selv. Statens Vegvesen ønsker salgsmeldinger elektronisk, ta derfor med deg BankID / BankID-mobil så registrerer vi bilen mens du venter.
BELIGGENHET
Fra Gardermoen tar det 40 min med flytoget til Sandvika, derfra er det en kort taxitur. 
Vi holder til sentralt på Høvik i Bærum, rett ved E18.
Adresse: Ramstadsletta 28, 1363 Høvik.
ÅPNINGSTIDER
Se vår hjemmeside. 


 ALD Carmarket er bilsalgskanalen for et av Norges største biladministrasjons- og operasjonelle billeasingselskap, ALD Automotive. 
ALD Automotive er en del av Société Générale Gruppen. ALD er lokalisert i 43 land, med en total bilflåte på mer enn 1,5 millioner biler. I Norge finansierer og administrerer vi alene rundt 16.000 biler. ALD carmarket avhender ALD Automotive´s leasingbiler med ett årlig salg på ca. 2.500 enheter.
Alle biler leveres med nybilgaranti eller bruktbilgaranti, som kan brukes i hele Norge.
Våre biler er fri for heftelser og km. stand garanteres . Alle våre biler er nye i Norge.


MBCONNECT - SERVICES FOR VEHICLE SETUP (HERMES)
09U MBCONNECT - VEHICLE MONITORING (HERMES)
13B OPERATORS MANUAL AND SERVICE BOOKLET - NORWEGIAN
149U POLAR WHITE
14U SMARTPHONE INTEGRATION PACKAGE
16U SMARTPHONE INTEGRATION APPLE CARPLAY
17U SMARTPHONE INTEGRATION ANDROID AUTO
1U3 VEHICLE WAXING
1U5 RUBBER-CUSHIONED STEERING GEAR
213 SPEED-SENSITIVE POWER STEERING/VARIO STEERING
218 REAR-VIEW CAMERA
235 ACTIVE PARK ASSIST
239 ADAPTIVE CRUISE CONTROL PRO (DISTRONIC PRO)
243 ACTIVE LANE KEEPING ASSIST (CAMERA)
249 INTERIOR AND EXTERIOR MIRROR,AUTOMATICALLY DIMMING
255B MB MOBILO WITH DSB AND GGD
260 TYPE DESTINATION ON TRUNK LID - ELIMINATION
270 GPS ANTENNA
286 LUGGAGE NETS ON DRIVER RESTS L AND R
287 THROUGH-LOADING FEATURE
294 KNEE AIRBAG
2U8 ALTERNATIVE REFRIGERANT
310 DUAL CUP HOLDER
345 RAIN SENSOR
351 E-CALL EMERGENCY CALL SYSTEM
352B LANGUAGE, INSTRUMENT CLUSTER/HU - NORWEGIAN
355 PREINSTALLATION FOR NAVIGATION RETROFITTING
362 HERMES - COMMUNICATION MODULE LTE
365 HARD-DISK NAVIGATION
367 LIVE TRAFFIC CAPABILITY
3U6 HU COUNTRY-SPECIFIC KIT FOR ECE/ROW
400 FOLDING ARMREST IN THE REAR
429 7-SPEED AUTOMATIC DUAL CLUTCH TRANSMISSION
431 ST.WH.GEARSHIFT BUTTONS/SHIFT PADDLE ELECTROPLATED
446 TOUCHPAD ONLY
458 10.25" COMBINATION DISPLAY
475 TIRE PRESSURE CONTROL
500 ELECTRIC FOLDING OUTSIDE MIRROR
502 3 YEARS OF MAP UPDATES FREE OF CHARGE
504 SPEED SIGN DETECTION
51B RATING COUNTRY SET EURO-NCAP
51U BLACK FABRIC ROOF INTERIOR TRIM
537 DIGITAL RADIO STANDARD DAB (DIGI. AUDIO BROADC.)
543 SUN VISOR WITH ADDITIONAL FUNCTION
549 CONNECT 20 HIGH (NTG6)
555L NORWAY
581 AUTOMATIC CLIMATE CONTROL
598 GASOLINE PARTICULATE FILTER (GPF) WITH SENSOR
5XXL EUROPE
632 RIGHT-HAND TRAFFIC STATIC LED HEADLAMP
650A FABRIC/IMITATION LEATHER/MICROFIBER
651A FABRIC/IMIT. LEATHER/MICROFIBRE - BLACK/ANTHRACITE
666 PRODUCT PROT.F.TRANSPORT VEH. W/O TIE-DOWN HOOKS
677 AVANTGARDE/STANDARD SUSPENSION
6P5 STEUERCODE VERTRIEB FUER CODE 475 ANFORDERUNG
73B ROLLER BLIND BOX CLOSED
772 AMG STYLING PACKAGE-FRONT SPOILER, SIDE SKIRT
7U3 SEAT MODEL VARIANT 3
809 YOM 18/1
824 AIR CONDITIONING SCOPES FOR COLD COUNTRIES
840 DARK TINTED GLASS
853 MIDLINE SOUND SYSTEM
859 CENTRAL DISPLAY MID (9 TO 11.5 INCHES)
873 SEAT HEATER FOR LEFT AND RIGHT FRONT SEATS
877 AMBIENCE ILLUMINATION
889 KEYLESS - GO
8U6 CONVERSION, STEERING WHEEL OPERATION ASSIST.SYSTEM
8U8 I-SIZE-MARKING (ISOFIX SUCCESSOR)
927 EURO 6 TECHNOLOGY EXHAUST GAS CLEANING
936 CYLINDER SHUT-OFF
950 AMG SPORTS PACKAGE
968 COC PAPER EURO6 TECH. W/O REGISTRATION CERT.PART 2
989 IDENTIFICATION LABEL UNDER WINDSHIELD
998 WLTP WITH RDE CHANGEOVER CONTROL CODE
B00 SUSPENSION MEASURES FOR ROUGH ROAD TERRAIN
B09 REFRIGERANT COMPRESSOR WITH MAGNETIC COUPLING
B18 SPECTACLE SHELF
B51 TIREFIT
B59 TRANSMISSION MODE SELECTOR LEVER (AGILITY SELECT)
F177 MODEL SERIES 177
FU1 FRESH-UP 1
FW LIMOUSINE
GA AUTOMATIC TRANSMISSION
HA REAR AXLE
JCX PLANT CONTROL CODE
JOL PLANT CONTROL CODE
K13 CONTROL CODE FOR SERVICE INTERVAL 25000 KM
K31 NOISE REGULATIONS AS PER ECE R51-03
L LEFT-HAND STEERING
L5C MULTIFUNCTION STEER. WHEEL - LEATHER DEEP EMBOSSED
M014 ENGINE INCREASED PERFORMANCE
M14 DISPLACEMENT 1.4 LITER
M282 R4-OTTOMOTOR M282
P44 PARKING PACKAGE
P49 MIRRORS PACKAGE
P55 NIGHT PACKAGE
PAC VALUE PACKAGE
PBI CONNECTIVITY PACKAGE FOR CONNECT 5 (NTG6)
PXV CONTROL CODE MARKETING
PYA CONTROL CODE MARKETING
PYH CONTROL CODE MARKETING
PYN CONTROL CODE MARKETING
R01 SUMMER TIRES
RQT 18" AMG SPOKE WHEELS ALL-ROUND
U01 REAR BELT STATUS INDICATION
U10 FRONT PASSENGER SEAT WITH WEIGHT SENSING
U25 ILLUMINATED DOOR SILL
U26 FLOOR MATS - AMG
U55 MULTI-LINK AXLE
U59 SEAT COMFORT PACKAGE
U60 PEDESTRIAN PROTECTION - ACTIVE ENGINE HOOD
U62 ILLUMINATION PACKAGE
V50 SPEED + LOAD INDEX 91W
VL FRONT AXLE HALF, LEFT
VR FRONT AXLE HALF, RIGHT
Vi tar forbehold om feil i annonsen.